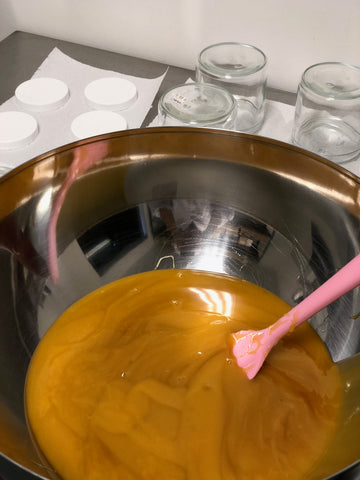 HONEY TAPPING AT HOME
Honey Tapping is a method of gentle exfoliation and lymph stimulation that creates a brighter complexion.  It helps with movement and circulation which many of us could use right now! 
Honey Tapping is done with one ingredient, raw honey.  I recommend using raw honey (which you can find at most grocery stores if you don't have some in your cabinet), because raw honey contains a ton of vitamin, minerals, and beneficial bacteria that is so healing to the skin.  Honey that is not raw has been cooked and filtered and all of these benefits have been removed.  It's also important that the honey is liquid rather than crystallized, because it will work better and be gentler on the skin.  Organic and local are even better, but use what is available to you! 
Because of its incredible wound healing and antimicrobial powers, raw honey has been in cultures across the world for skin care preparations as long as it's been around.  
Any type of raw honey will work, with raw Manuka Honey having the strongest healing powers.  Manuka honey is honey made by bees that pollinate the Manuka plant in New Zealand, which has similar properties as our commonly used Tea Tree (known for it's healing antimicrobial effects!).
Our limited-edition Glow Mask (which is released a few times a year, join our newsletter for updates!) has a base of raw Manuka Honey and can also be used for Honey Tapping!  
Here's how to do it: 
If you are wearing makeup, sunscreen, or have been out and about, cleanse your skin first and start with a fresh face.  If you have been around the house, cleansing first could be optional.  Pull back your hair and use a headband if needed.  Scoop out about a teaspoon or so of honey or Glow Mask, and use fingertips to apply a medium layer evenly to your face and neck.  If you need more, scoop out more.  If you are using raw honey, it will be quite sticky, but that's great.
Once fully applied, use your fingertips to gently tap your skin as if you are typing or playing piano.  You will want to generally use an outward and downward motion like I have described for facial massage.  You can spend more time in areas that are congested, such as the T-zone.  Be sure to tap down your neck and on your chest too.   Although it's OK to put honey on the entire face regardless, avoid tapping areas with active breakouts or lesions.  Do not do this on skin that is sunburned or otherwise irritated.  
Because the honey is sticky, when you tap you will get a little bit of resistance.  This gentle pulling is what both exfoliates the skin and gets your lymph stimulated.  Continue to tap for a few minutes, but don't overdo it.  When you are done tapping, massage in a little bit of water to remoisten the honey or mask.  Leave it on for another 10 minutes or so and then remove by rinsing well or gently with a warm washcloth.  
For a nice at home DIY facial ritual, try the following:  
Cleanse skin.
Place boiling water in a large bowl w/ any herbs or essential oils (only use 2-3 drops!) you have and place your face over the bowl with a towel over your head and breathe the steam for 3-7 minutes.
Honey Tap.
Follow with your favorite toner, serums, and moisturizer.
Have fun experimenting with Honey Tapping and your Glow Masks!