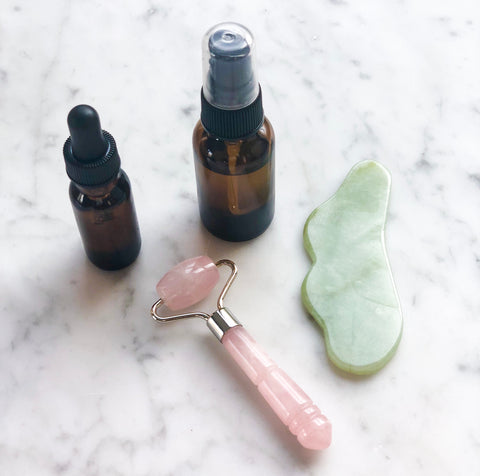 3 Simple Ways to Incorporate Facial Massage 
By Amber Woods 
Home facial massage is something I absolutely recommend for keeping your skin as healthy as possible.  Learning to massage your face takes a little practice (learn more in my online workshop), but once you know the basics, it can easily become part of your daily or weekly routines.  I know for some it feels daunting to add something new into their routine, and perhaps they don't know where to start.  While setting aside extra time for longer facial massage sessions is wonderful and recommended, especially before special events, I want to share 3 ways to seamlessly incorporate facial massage into your current routines.  
Do your facial massage when you apply your oil or moisturizer at the end of your AM/PM routine. 
For many, you are already washing and moisturizing your face at some point each day.  Most facial massage techniques benefit from some slip (moisture), so why not tack on some facial massage moves, whether it be gua sha, rolling, or manual (hand)  massaging, as a finishing touch for your routine? 
Do a deep oil cleanse.  
One of the things I love about oil cleansing is that you have to take a moment to massage your face.  Even 10-15 seconds can be effective, but consider taking 1-5 minutes while you are oil cleansing to more deeply massage your face.  You can even lie down on your bed while you massage.  I don't recommend doing this when you are oil cleansing to remove makeup or a lot of grime from your skin, but otherwise this could be a nice, relaxing treat.  
Massage in your products daily.

 
This is the absolute easiest way to incorporate massage into your routine everyday.  Rather than be delicate with your product applications, opt to work them into your skin with your hands.  Place product in palm, rub hands together and then apply and massage in with entire hands.  Spend 15-30 seconds working them in, doing strokes outward and down your neck.  This will give your skin and lymph system a little stimulation every time you do your routines.  
These are easy ways to make facial massage a part of your regular routine, without much fuss.   The benefits of facial massage are endless, from clearing congestion to preventing fine lines to improving tone and texture of your skin.  
Want to learn more about home facial massage?  Take my workshop, Skin Flow:  The Basics of Home Facial Massage to learn the all of the major tenets of lymphatic drainage, gua sha, facial rolling, and hand massaging.  
Leave your facial massage questions and comments below!